GREETINGS FROM THE PRESIDENT
Welcome to the Prescott Antique Auto Club!

On behalf of the more than 200 members of one of the oldest car clubs in Arizona I would like to thank you for taking the time to peruse the continuously updated pages of our website. As we continue our spirited drive through our 45th year lots has been happening within our club. Your visit to our site will keep you busy as you click on new pages such as CLUB NEWS, CALENDER and WATSON LAKE SHOW. We strive to add both text and picture slide shows which give members and non-members alike up-to-the-minute news about our recent events and activities.

Coming up very soon is our 41st Annual Watson Lake Car Show, Parts Exchange, Car Corral and Old Engine Fire-up. It keeps getting better and better every year so mark your calendar for the first weekend of August and join us here in beautiful Prescott, Arizona.

Take a few moments and surf our site. Even better, come and join us. We meet every month and are looking for people who love cars, trucks, motorcycles and other vehicles, any year and model. You don't even have to have a special vehicle to join. Just a love of the hobby. We participate in parades, motorized car shows, automotive tours, parts exchange extravaganzas and various social events. All the info you need is right here at your fingertips. Happy driving!

Warmest regards,

Scott Hein
President
Prescott Antique Auto Club
A Few Words About the Prescott Antique Auto Club
The Prescott Antique Auto Club (PAAC) is open to anyone with an interest in vintage or classic vehicles or machinery. Our members have a wide interest in acquiring, restoring, and exhibiting antique, vintage, production and/or special interest vehicles or machinery. We promote many activities for the enjoyment of all of our members and their families.

PAAC regularly schedules various events such as mini car shows, parades, monthly tours, monthly cruise-ins, swap meets and other related events. We present one of Northern Arizona's best yearly shows, The Watson Lake Show, in early August.
WATSON LAKE SHOW
The 2015 Watson Lake Show Flyer is now available. You can find it in the menu above, or click here if you wish to read it or to print it.

The 2014 Watson Lake Show was our 40th annual show! By all measures it was a great show. Thanks to our participants we had a large turn out. Lots of smiles. Happy show car owners, swap people, car corral folks, and small motor people. See message from the PAAC President.

If you were unable to attend the event, you can get a small "taste" of what it was like by viewing our slide shows.

We also wish to thank all of the businesses who participated by offering promotions and providing items for our raffles. Some truly neat things were raffled this year.

For more information about the Watson Lake Show, please visit our Watson Lake Show pages.
RAFFLEs - RAFFLEs - RAFFLEs
We have a fantastic opportunity for you to win a beautifully restored 1947 Cushman Road King Scooter while you help to support some very worthwhile causes. Tickets are available at our cruise nights and at car shows. Or, you may call the number on the flyer. Tickets are $5.00 each or 5 for $20.00. Click on the thumbnail image below to read the details or to down load the flyer.
Fire Truck Story In Hemming's Classic Car
Read the March 2014 issue of Hemming's Classic Car for a story about our fire truck.
Our Club House
The PAAC has a Clubhouse which is located at 823 Osborn St. in Prescott. This is on the northeast corner of the Prescott Rodeo Grounds. Club meetings are held at the PAAC Clubhouse on the 2nd Wednesday of the month at 6:30 pm. The meetings are open to all interested persons.

PAAC restored a 1931 Seagrave Ladder Truck. This truck is the first ladder truck owned by the Prescott, Arizona, Fire Department. It was purchased new in 1931.

The Prescott Antique Auto Club is a great organization! Come visit us at a general meeting or a Tuesday morning get together at the Club House. See what we are all about! Map.

The 2015 Watson Lake Show is over! We have updated our website.
You can see a slide show for the first day of the show here. And pictures taken the second day can be seen here.
You can use our Contact page if you wish to comment on the show. We welcome suggestions / ideas on how to improve the show.

Christmas means many things to people. For PAAC members Christmas includes participation in parades in Prescott. But, there is another activity that is not so visible to people outside of our club. This activity has an outward focus. We spend time and resources on making Christmas time a more enjoyable time for Veterans that are resident at the VA Hospital. To that end, gift requests are obtained, gifts are purchased and personally delivered by club members on Christmas Day. All club members are invited to help buy, wrap, and deliver gifts.

CHRISTMAS, PAAC STYLE
A major change this year, (2015)
We were asked if we could include a quilt for each verteran in addition to the other gifts. Glenda is leading that effort and will attempt to make 60 quilts between now and Christmas. Glenda needs help! For detals you can call her at 928-442-9543. See the poster by clicking here for more details. She needs all kinds of help on this project. Please let her know you got her number from the website and ask how you can help her.
Cushman Road King Scooter Raffle
RANCHERO RAFFLE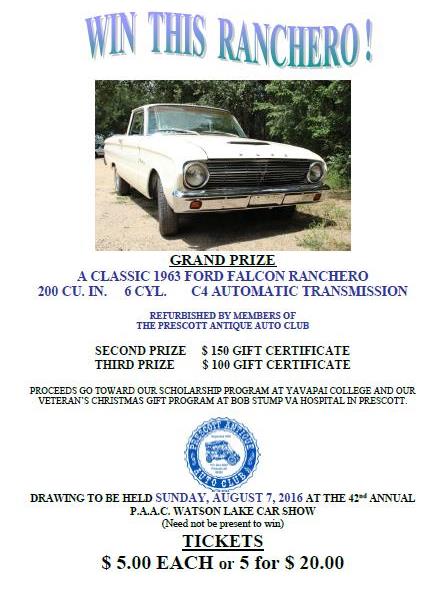 Click on the poster image to see raffle information in a full size view of the poster in a new browser window. The poster is in PDF format so you can save, print or copy it.